Sound Bath
Thursday, 7th September, 7:15 – 8:30pm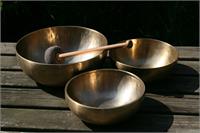 This is a workshop you don't want to miss especially if you love music and sound.
Sound baths are extremely effective ways of experiencing greater relaxation and releasing tension.  Unlike any other meditations you don't have to do anything other than lie down and listen.  It is a fast and effective way to enter a deeply meditative state.
It has been described as being mind-emptying rather than mindful, and after a session your mind feels clear and light.
The sounds are completely enveloping; like a sonic massage, but without being touched.
This is going to be a wonderful experience.  Click here to book your place, £25.  **Only 6 places left
Better Balance and Feisty Feet
Sat, 9th September, 1 – 3pm
– Want to be steadier on your feet?
– Stiff or weak ankles, or even troublesome knees?
Let Dianne teach you all about your feet, how to mobilise them and encourage them to move in a way that leaves you feel firm footed when walking or running.
Functional Yoga
Saturday, 16th September, 1 – 3pm
This workshop is for people to discover their own yoga, how their own body works. Using the natural function of YOUR body.
Meditation for Beginners
Saturday, 16th September, 1 – 3pm
This workshop will teach you some guided visualisations and some easy meditations you can use at home.  You will leave feeling relaxed, calm and ready to face the world – we promise!
"I really enjoyed the balance and feisty feet workshop. I've found that my balance is much improved with all the yoga I've done with the HOH team, and the advice to wear walking shoes instead of boots has really helped my knees, using the ankles more takes the pressure off my knees. Keep up the good work HOH team."
Fiona Ludditt, HOH Member
Want to try a class with us?
If you would like to come along and try a free first class with us here at Hands on Health. Get in touch with us today!